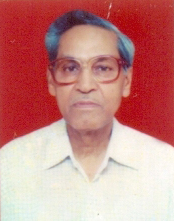 Name & Age                              :           Tilak Narain Hajela – 80 years
                                                            Ex-President of the Society
Residential Address                :           232, Aravali Apartments, Alaknanda
                                                            Kalkaji, New Delhi-110019
Contact Phone Nos.                 :           41600692, Mobile: 9312252774
Educational Qualifications      :           M.A. (Econ.) – 1949; Ph.D.-1960
Teaching Experience               :           14 years (Undergraduate and P.G. Classes)
Research Experience              :           47 years; Ph.D. produced-2;
Guiding Research-6
Administrative Experience       :           Joined the U.G.C. in 1963 and retired as
Joint Secretary in 1988
Other Experience:
A. Served as a member of: (i) Research Degree Committee in Economics of Agra, Bundelkhand, Rohilkhand, Meerut and Kanpur Universities; (ii) Board of Studies in Economics of Awadh, Sagar, Indore, Agra, Faizabad and Kanpur Universities and APS University, Rewa, Jiwaji University, Gwalior and Patna University; (iii) Academic Council, Kashi Vidyapith and Meerut University; (iv) Advisory Committee of Indian Institute of Finance, New Delhi; (v) A number of other professional bodies; (vi) Selection Committees for Appointment of Teachers in Colleges, as University expert and nominee in Kanpur and Meerut Universities.
B. Has been evaluating Ph.D/D.Litt. theses in the Universities of U.P., A.P., M.P., Maharashtra, Karnataka and Bihar.
C. Has been on the panel of paper setters and evaluators at the postgraduate level in the Universities of U.P., Bihar and M.P., and Examiner in UPSC and State Service Commissions.
D. Visited various Universities of U.K. as a Visiting Fellow of Q.E.H. Oxford University during 1975-76, and worked on 'Impact of Inflation on Higher Education in U.K.'
E.      
Co-author of: (i) Co-operation in India and Abroad (1954);                                                          
Financial Organization; (1957) and Currency, Banking and Foreign Exchange (1958).
Author of:
Public Economics (1960),
Rajasva Ke-Siddhant (1961);
History of Economic Thought (1967);
Arthik Vicharon Ka Ithihas (1970);
Co-operation: Principles, Problems and Practice (1973);
Monetary Economics (1978);
Money Banking and International Trade (1983);
Sahkarita – Siddhant, Samasyaaien Avem Vyavahar (1990);
Macroeconomic Theory (1998);
Public Finance (1999); and (xi) Samashthi Arthashastra (2000)