-Dr. (Ms.) Malti Goel

(25.7.2015)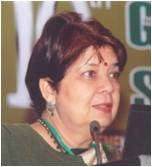 I recall an incident which occurred in 1990 in UK. I was attending a technology management programme and was staying in a town at the outskirts of London. From the window of my room the road was directly visible. Suddenly I heard a thud and a vehicle hit the man on bicycle. The person fell on road, was hurt and bleeding. But in less than two minutes a police van reached there and provided first aid to him. This incidence is so fresh in my memory, there were no crowds, no road rage, just the safety of injured person was attended. All this was possible because of good ICT (information and communication technologies) infrastructure besides quick human action.
Global climate change concerns have given a boost for smart city development. Minimization of greenhouse gas emissions, waste utilization, fuel savings and disaster free improved quality of life, are the key goals. Smart cities are booming with innovations such as; e-governance, e-services, e-business, e-learning, e-security, Intelligent traffic control and accident / risk warnings. Success stories in ICT already include; e-marketing, e-sales, e-banking and not to forget Crorepati serial on TV.
Urban Development, Government of India has allocated 7000 crores budget for the growth of smart cities in 2014-15. In this context recent findings in an awareness workshop held on Smart cities and Green Building at IIC, New Delhi in January 2014 are relevant. Some experts opinioned that Smart Cities are not feasible and are  too far in the future, while some others felt that Smart Cities are critical need of the hour in India.  Many dignatories from urban planning, architecture departments and power sector were present. Need for capacity building in growth of smart cities was discussed in the workshop organized by the Climate Change Research Institute on 31st January 2014
Inaugurating the workshop Shri Gireesh Pradhan, Chairman, Central Electricity Regulatory Commission and former Secretary, Ministry of New and Renewable Energy; opinioned that we cannot ignore smart cities development in India. Urbanization in our country is taking place at a very rapid pace and by 2050 more than 60% of our population will be in cities. He inspired future planners to take a holistic look at use of energy, energy efficiency, water conservation, waste management and intelligent traffic control etc. so as to create sustainable urban environment.
Other eminent speakers who addressed the workshop participants included Dr. Arun K. Tripathi, Director, MNRE, Prof. A.K. Maitra, former Director, School of Planning & Architecture, Shri R.G. Gupta, Ex-additional Commissioner, DDA and other senior experts. Young researchers also presented their research findings. General awareness about smart cities is lacking The workshop was informative towards increasing awareness among youth and capacity building in relation to concerns of building new smart cities. The general consensus arrived at was that even as cities like Chandigarh, Dhulera and Kochi are equipped with e-governance and are emerging smart cities; mega cities like Delhi face severe problems due to increasing migration, heavy congestion, lawlessness, unapproved construction, increasing load to basic amenities and builders' attitude.
Awareness about smart cities and green building principles is must among youth at different levels to take part in the clean city development movement. The policy makers need it to address the climate change challenges. It is heartening that smart cities are now in plan of action of government of India. As high tech solutions for e-governance and innovation we need to think in terms of location specific technologies. Utilizing India's strength in Information Technology with the goal to adapt a climate change control strategy by achieving energy & fuel savings to improve quality of life is imperative. Smart cities are clean, green & healthy, and we need them.